Synopsis
Set against the music of Belle and Sebastian, Daniel Ribeiro's coming of age tale, THE WAY HE LOOKS is a fun and tender story about friendship and the complications of young love. Leo is a blind teenager who's fed up with his overprotective mother and the bullies at school. Looking to assert his independence, he decides to study abroad to the dismay of his best friend, Giovana. When Gabriel, the new kid in town, teams with Leo on a school project, new feelings blossom in him that make him reconsider his plans. Meanwhile, Giovana, grows jealous of this new found companionship as tensions mount between her and Leo.
Film Credits
Producer:
Daniel Ribeiro
Diana Almeida
Starring:
Ghilherme Lobo
Lucía Romano
Tess Amorim
Eucir de Souza
Fábio Audi
More Information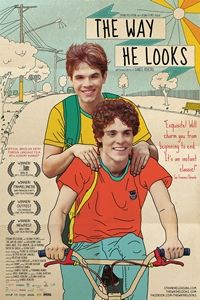 Rating:
12A
Suitable for 12 years and over
Films classified 12A and video works classified 12 contain material that is not generally suitable for children aged under 12. No one younger than 12 may see a 12A film in a cinema unless accompanied by an adult. Adults planning to take a child under 12 to view a 12A film should consider whether the film is suitable for that child. To help them decide, we recommend that they check the Ratings info for that film in advance. No one younger than 12 may rent or buy a 12 rated video work.